We are building cube-style timber frame structures using locally milled wood.  Walls are filled with clay slip and finished with cob/plaster.
We have designed and built 10x10x10 foot cubes, made with locally milled wood.  Bandsaw mills logs up to 10 feet providing 4x4 inch cants, beams and boards.  Walls are made with milled boards and insulated with straw, clay, cob and plaster.  The cube rests on an earth foundation with built in mass heater, bath and connection to an outdoor composter/toilet.
Cubes are simple, functional, attractive and easily affordable.   They provide heat, shelter and basic cooking and cleaning.  They serve as storage units, workshops and studios for eco villagers.
Mass Heater
A rocket mass heater consists of an insulated combustion chamber where fuel is burned with high efficiency at high temperature, and a large thermal mass in contact with the exhaust gases which absorbs most of the generated heat before the gases are released to the atmosphere.
We have built rocket mass heater to heat water and provide a warm area to bath.  We are working with various recipes for plaster, for example:
3x sand
1x soaked, aged lime
1x cow manure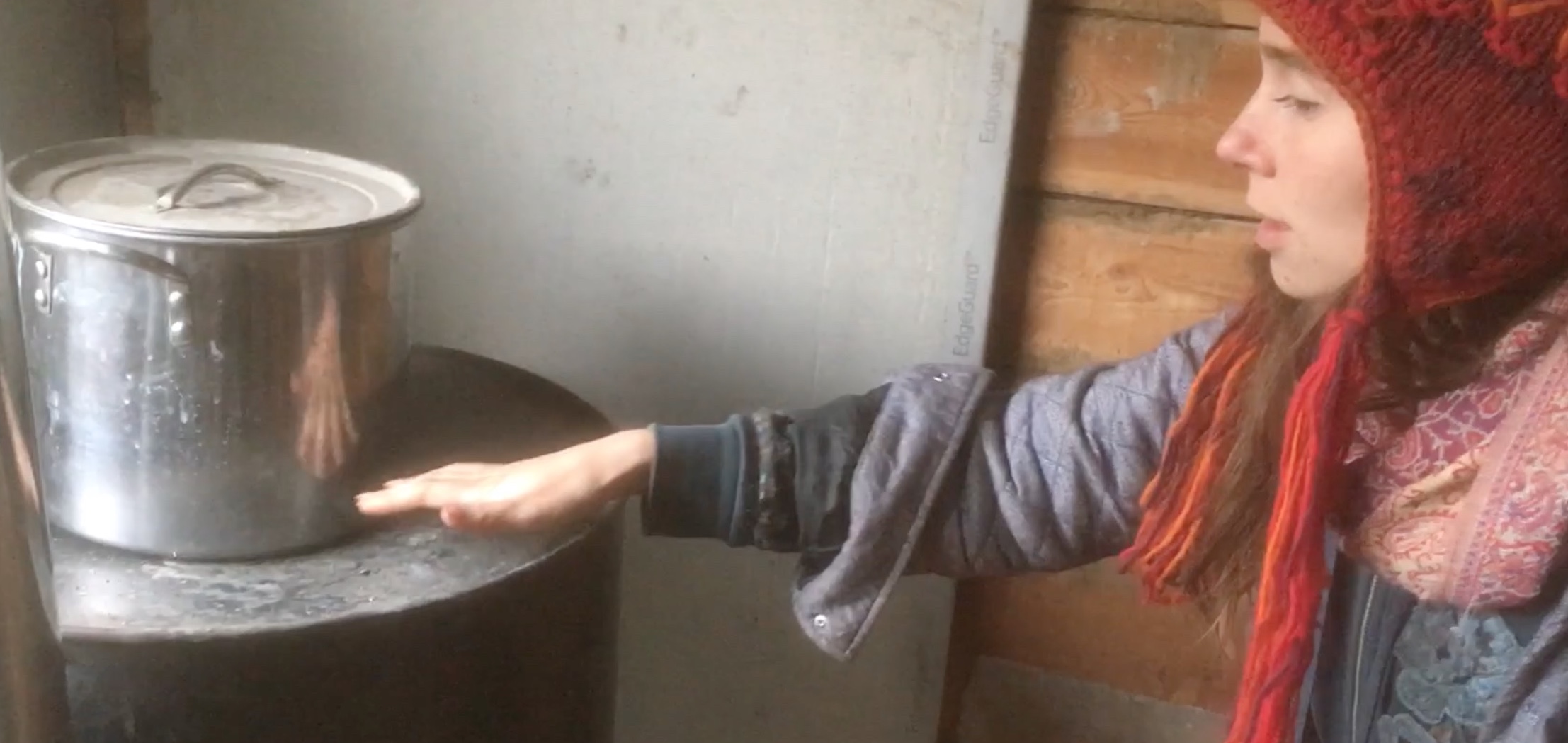 Rocket Mass Heater
https://permies.com/t/42871/Rocket-Mass-Heaters
ONE YEAR with a ROCKET MASS HEATER -- FULL demonstration and family review
https://www.youtube.com/watch?v=CoOcsq12UkE
Rocket Mass Heater -- Is it Working? — Mountain Dream Home #32
https://www.youtube.com/watch?v=AkE75GunWxo
Rocket Mass Heater Full Build
https://www.youtube.com/watch?v=YbokXd1x3OQ
... 3 years later
https://www.youtube.com/watch?v=nG9-hyg7r4k
Rocket Stove Mass Heater with Homemade Mortar & Cob
https://www.youtube.com/watch?v=NYJyxptclos
Rocket Mass Heater Full Build (time lapse)
https://www.youtube.com/watch?v=YbokXd1x3OQ&t=6s
Rebuilding and Improving a ROCKET MASS HEATER
https://www.youtube.com/watch?v=41iMaMoD-rI
Dragon Rocket Stove Mass Heater
https://www.youtube.com/watch?v=MEQH2vIsMoU
How To Make A Cob Bread Oven [Full Build]
https://www.youtube.com/watch?v=Y8ypOvHkLIY
bench
https://youtu.be/luAv2i75u5c?t=228
building with cob
https://www.youtube.com/watch?v=InJrWLK-wHc
cob floor
https://www.youtube.com/watch?v=TSIsEF3nybA
YOU CAN BUILD A COB HOUSE IN COLD CLIMATES - INSULATION AND THERMAL MASS
https://youtu.be/M_2hwrjME0o?t=121
Project Status
in progress
Completion percentange
90%