Daily activities include growing and harvesting food, clearing the forest, milling lumber and building infrastructure. The first plots to develop are the Go Shala (for future cows), gardens, kitchen, Patha Shala (Learning Center), Yoga Shala and Yajna Shala.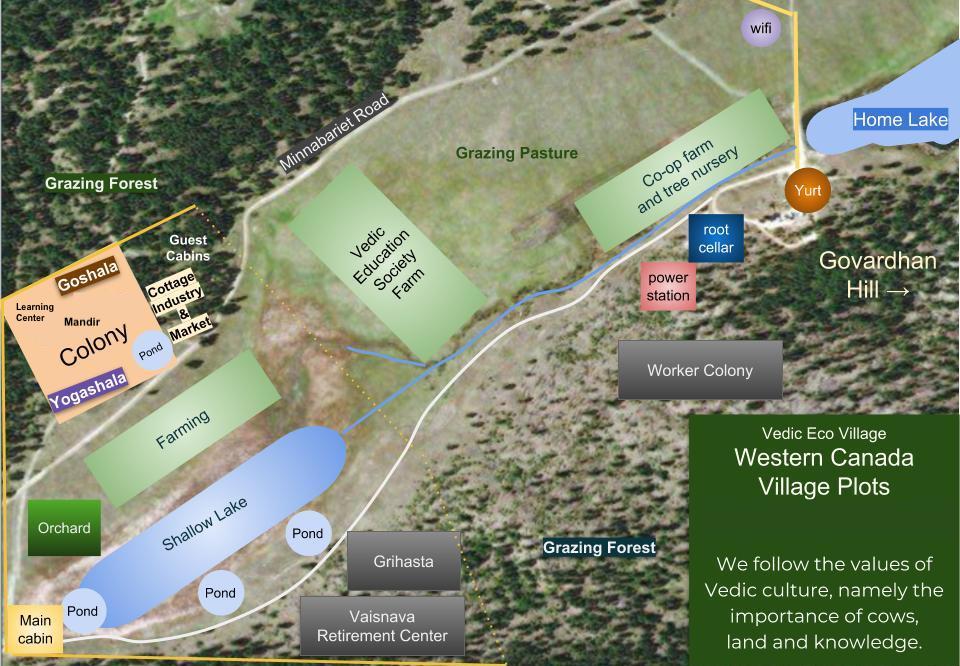 The Mandir temple compound will be the focus of all activities of the Eco Village.  The Learning Center (patha shalla) will host a Vaishnava College and provide brahmana and ksatriya training as well as accommodating other teachings.   We have begun implementing certain aspects of the master plan starting with infrastructure: water, roads, gardens and living facilities.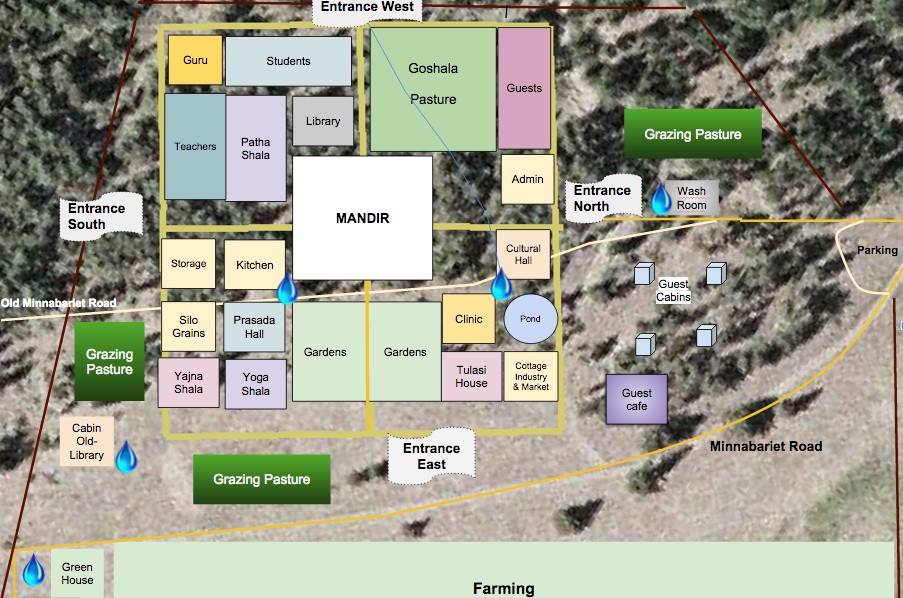 Objectives
Introducing cow-based natural farming (ahimsa food/ahimsa milk), reviving traditional technologies (ahimsa cloth and other cottage industries), giving special protection to indigenous cows and introducing panchagavya products to help meet basic physical needs.
Re-establishing traditional education and training, both non- formal such as apprenticeship and formal such as  Varnasrama Colleges to create Acharyas and Vaidyas who will be qualified to develop traditional Vedic curriculum.
Promoting group projects, festivals, counseling services and cultural events to help meet basic social needs.
Introducing Yoga, Meditation and sadhana practices, like hearing from scriptures, to help meet basic consciousness/spiritual needs.
Reestablishing the dignity and respect Mother Surabhi (cows), to Mother Bhumi (land), and to Mother Sarasvati (knowledge) recognizing them as natural GIFTS OF NATURE that are never meant to be exploited, abused, neglected or destroyed.
Desired Outcomes
Ahimsa Food/Ahimsa Milk/Ahimsa Cloth Physical/Health
Go Krishi Sanga/Cow Care/Grazing Physical/Social
Cow-based Organic Farming Economy/Ecology
Forming Local Rural Community Team Social/Leadership
Introducing Panchagavya Products Physical/Health
Adopting Yoga/Basic Spiritual Practices Health/Spiritual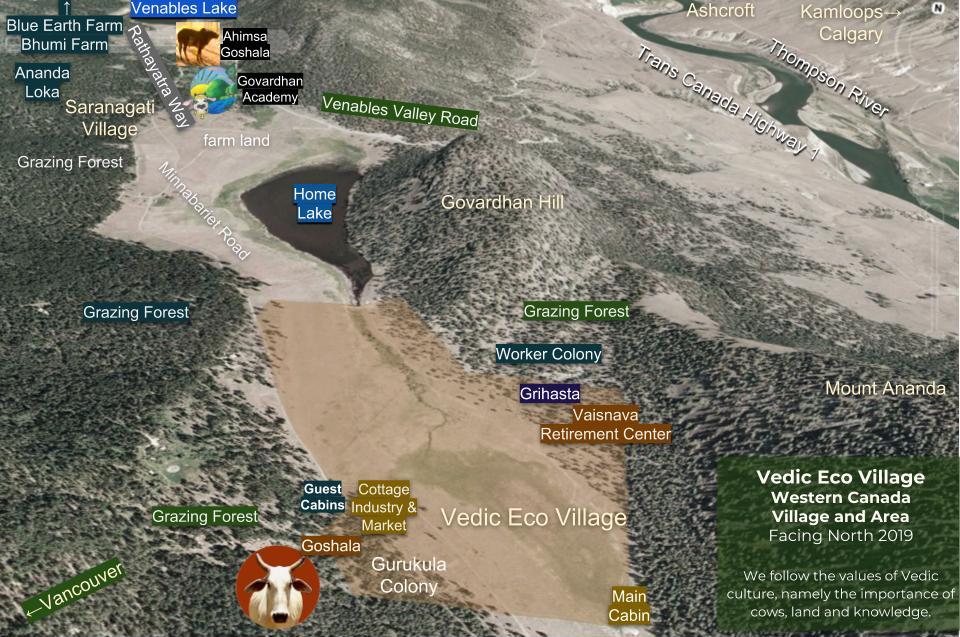 Community Development Plan
Traditional Agriculture
Grihastha farm workers living in temporary housing kutirs/turt/tent
Granary, Kitchen and eating facilities
Organic Farming Research Center
Institutional (Patha shalla)
Learning Center
Varnasrama College  
Ksatriya College of Martial Arts
Traditional Craft Center
Administrative (Panchayat) 
Guest Accommodations
Temple (Kitchen & Prasadam Center)
Community Hall  
Brahmacari Ashram  
Ayurvedic Cow Grazing Center   
Health Care Nature Cure Vaidhyashala & Yoga Center   
Planetarium & Exhibition (Nature Arts & Craft)   
Colony Vastu
The Colony is divided into 36 plots of equal size (18 meters by 18 meters) where different activities will take place. In keeping with the principles of Vastu the colony will have two Raja Margas (main roads) that run East-West and North-South each measuring 4 dandas (8 meters or 24 feet). Within each quadrant will be 9 plots.  The Colony will also have a ring road that circumambulates the inside border of the colony measuring 2 dandas (4 meters or 12 feet) connecting to the two Raja Margs. The area selected for the colony is in the most southwest section leaving ample space for other activities to the north and east.  Activities and purposes have all been allocated to specific plots based on Vastu principles. 
This forms the basis of the Master Plan to gradually manifest the Vedic Eco Village.